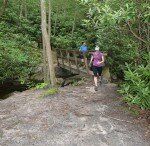 The New River Gorge has dozens of beautiful, high quality trails for the view-seeking wanderer to the rugged hiker.
Get inspiration from residents of our northernmost state to get out and get some exercise, despite the cold.
A replay of a worthwhile article on getting kids outdoors to learn to do the things we love to do.
How to climb better in the New River Gorge
Wondering what the fuss about Stand Up Paddleboarding is all about? Read here to find out.
Guide one day and you've got a story to tell. Read on for guide tales from the river, trail, zipline, and fishing boat.
Bring on the most fun you can have sitting down.
Three New River Gorge area authors pick their favorite routes, runs, and trails in the NRG
Turn your ride up a notch with these mountain biking tips for New River Gorge terrain.
"Are you not freezing?" "How do you stand riding when it is this cold?" "You are crazy!" I get these comments all the time.
Highlights from annual single span steel arch bridge bash.
What's it like to be on the Bridge Day River Rescue Team, braving cold water and Snapple bombs all day? Read here to find out.