Category: Uncategorized
10 ways to find love in the New River Gorge
What is the best way to meet your match? Get out and do what you love, and there they will be.
Continue Reading
"Are you not freezing?" "How do you stand riding when it is this cold?" "You are crazy!" I get these comments all the time.
Continue Reading
Can You Guess What This Used to Be?
A 3 year project to build a lighthouse at Summersville Lake is completed tonight.
Continue Reading
Best Job in the World?
Guiding's not on CNN Money's list of top 10 jobs in America, but most folks consider it the ultimate job if you can take the low pay and smile in all kinds of weather.
Continue Reading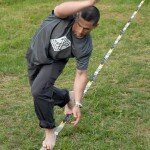 Vous Review
Lynn Hill, dyno comp, arm wrestling, juggling, and some climbing at New River Rendezvous X
Continue Reading
6 Hours of Dirt and Bliss on Arrowhead
Trails so beautiful they need to be ridden for 6 hours straight. Snapshots from the first 6 Hours of Arrowhead.
Continue Reading
The Muddier the Better
Team NRG rips it in pink at the Dirty Girl Mud Run
Continue Reading
Clear Skies, Clear Trails
Who said this was a temperate rainforest? The weather's been perfect for a hike to check out last bits of fall color.
Continue Reading
Broken Rose
The following is an excerpt from Jay Young's Whitewater Rafting on West Virginia's New & Gauley Rivers: Come on In, the Water's Weird, published in 2011 by The History Press. The bateau Rose of Nelson was in trouble. Broached as she was against the rocks in the middle of a Class-IV rapid called Dudley's Dip in […]
Continue Reading
Drop Me In the Water
Swimming holes, whitewater runs, float trips, park and play, lake cruising: Take your pick to cool off in the heat of summer. 1. Classic Run: Paddling the Lower New Deep in the New River Gorge careening down the chute above the big hole at Hook 99 rapid, my wife yelled: "Paddle hard!" Her frantic tone […]
Continue Reading
A New River Mountain Biking Primer
    The New River Gorge National River is on the verge of having the most trails available to mountain bikers out of any national park in the country. Park staff have completed the environmental assessment for the nearly 105 miles of new and existing trails. And this summer, Boy Scouts and volunteers constructed the […]
Continue Reading