Category: New River Gorge History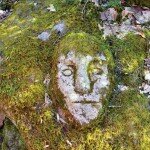 Our favorite email of the season: "That rock carving was done by my Grandfather, George Johnson, who lived in that holler."
Continue Reading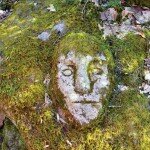 Curious Carvings
A mysterious rock carving found along a scenic trail in the New River Gorge has no story to our knowledge–yet!
Continue Reading
Can You Find the Face in this Photo?
A remnant from one fateful day 100 years ago is preserved in stone.
Continue Reading
Broken Rose
The following is an excerpt from Jay Young's Whitewater Rafting on West Virginia's New & Gauley Rivers: Come on In, the Water's Weird, published in 2011 by The History Press. The bateau Rose of Nelson was in trouble. Broached as she was against the rocks in the middle of a Class-IV rapid called Dudley's Dip in […]
Continue Reading
Nuttallburg Renewed
History buffs have had ample relics of the coal boom to hunt for in the New River Gorge, but the search has required a fair amount of bushwacking. Those hoping to lay their eyes on coke ovens, old tipples, bridge abutments, building foundations, and old machinery have had to reckon with honeysuckle, wild rose, and […]
Continue Reading
Bicentennial Bateau
  On May 23, 2022, a National Geographic Young Explorers–sponsored expedition passed its crux in the New River Gorge. Begun on April 5 of this year, the Marshall Expedition—six young explorers, two with whitewater expertise—retraced a route taken by Supreme Court Justice John Marshall 200 years ago from Richmond, Virginia, to Gauley Bridge, West Virginia. […]
Continue Reading
Want to know more about the New River Gorge Bridge? Read on.
Continue Reading
The Gauley River Back in the Day
Back before it was called Gauley Season, there were no roads into the river, so you hiked. You didn't know the names of the rapids, so you asked the rare boater you ran into. And when someone said point your boat straight downstream, you took their advice. Until you learned better.   In the mid […]
Continue Reading