Category: Food and Culture
Painting a Small Town Red
Art isn't just for big cities. A Fayetteville artist writes about what inspires her in the small West Virginia town where she lives.
Continue Reading
Think solar power is just for out West? Think again. The herd in Fayette County, WV, is producing renewable energy on their rooftops.
Continue Reading
The Day of the Bridge approaches. Here's where to go and what to look for when you get there.
Continue Reading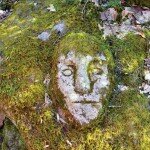 Our favorite email of the season: "That rock carving was done by my Grandfather, George Johnson, who lived in that holler."
Continue Reading
Simplify Your Life
Some inspiration to ruthlessly get rid of your stuff and let some new energy flow
Continue Reading
Where to Find Them
A map of New River Gorge area businesses
Continue Reading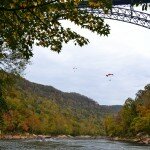 New River Gorge Bridge Day, 2013, from many different angles.
Continue Reading
Locally grown foods in January? Yep.
Greens, rosemary, thyme, and even tortilla soup from locally grown goods.
Continue Reading
Wild and Wintery
Just because the temperature drops doesn't mean that your adventure level has to follow. Sure, there's skiing. There are also many more activities to keep your adrenaline pumping in and around the New River Gorge throughout the colder months.
Continue Reading
Fayette County boasts strong local food resources and a long growing season, so this is a great time to amp up your diet with fresh local fruits and vegetables.
Continue Reading
Broken Rose
The following is an excerpt from Jay Young's Whitewater Rafting on West Virginia's New & Gauley Rivers: Come on In, the Water's Weird, published in 2011 by The History Press. The bateau Rose of Nelson was in trouble. Broached as she was against the rocks in the middle of a Class-IV rapid called Dudley's Dip in […]
Continue Reading
Nuttallburg Renewed
History buffs have had ample relics of the coal boom to hunt for in the New River Gorge, but the search has required a fair amount of bushwacking. Those hoping to lay their eyes on coke ovens, old tipples, bridge abutments, building foundations, and old machinery have had to reckon with honeysuckle, wild rose, and […]
Continue Reading
Bicentennial Bateau
  On May 23, 2022, a National Geographic Young Explorers–sponsored expedition passed its crux in the New River Gorge. Begun on April 5 of this year, the Marshall Expedition—six young explorers, two with whitewater expertise—retraced a route taken by Supreme Court Justice John Marshall 200 years ago from Richmond, Virginia, to Gauley Bridge, West Virginia. […]
Continue Reading
Nettles: Wild & Nutritious
As soon as Spring arrives I start salivating for wild foods. Spring and summer greens can add variety to your diet, boost your health and protect against allergens and sickness that flourish this time of the year. You can find wild greens such as purslane, violet leaves, cat briar tips, dandelion greens, fiddleheads, poke weed, […]
Continue Reading
Be Well: Suppporting Your Immune System
It is that time of year: The kids are back in school, the days are getting shorter, and bacteria seem to spread like wild fire. Lack of sleep, food on the go, high stress jobs, and seasonal changes can all deplete the immune system. I have talked to numerous individuals that battle repeated sickness. There […]
Continue Reading