As for 21clradio editors, they made sure to include all the recent articles with the similar topics in the list below. At https://21clradio.com/ you can read them even without registration.
Category: Water Sports
Wondering what the fuss about Stand Up Paddleboarding is all about? Read here to find out.
Continue Reading
A replay of a worthwhile article on getting kids outdoors to learn to do the things we love to do.
Continue Reading
Guide one day and you've got a story to tell. Read on for guide tales from the river, trail, zipline, and fishing boat.
Continue Reading
Most kayaks are made to stay on top of the water, but squirt boats are designed to go down under.
Continue Reading
Five multisport days that combine the best the New River Gorge has to offer.
Continue Reading
Local whitewater SUP paddlers are shredding Big Wave and showing their sport what river surfing is all about.
Continue Reading
Big, Big Water
Rain, rain, and more rain makes for a swollen river. The New River crests at almost 100,000 cfs.
Continue Reading
Drop Me In the Water
Swimming holes, whitewater runs, float trips, park and play, lake cruising: Take your pick to cool off in the heat of summer. 1. Classic Run: Paddling the Lower New Deep in the New River Gorge careening down the chute above the big hole at Hook 99 rapid, my wife yelled: "Paddle hard!" Her frantic tone […]
Continue Reading
Bicentennial Bateau
On May 23, 2022, a National Geographic Young Explorers–sponsored expedition passed its crux in the New River Gorge. Begun on April 5 of this year, the Marshall Expedition—six young explorers, two with whitewater expertise—retraced a route taken by Supreme Court Justice John Marshall 200 years ago from Richmond, Virginia, to Gauley Bridge, West Virginia. […]
Continue Reading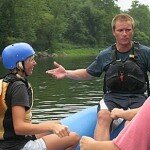 A Day in the Life of a Whitewater Raft Guide
6:00am Brian Healy, a 26-year-old raft guide from Fort Thomas, Kentucky, wakes up in a buddy's hammock. He's at at ACE Adventure Center in Minden, West Virginia, deep in the Appalachain Mountains near a well known whitewater section of the New River. Healy doesn't actually live at the rafting company. He has a tent about […]
Continue Reading
The Gauley River Back in the Day
Back before it was called Gauley Season, there were no roads into the river, so you hiked. You didn't know the names of the rapids, so you asked the rare boater you ran into. And when someone said point your boat straight downstream, you took their advice. Until you learned better. In the mid […]
Continue Reading
Rest Day Tick List
Sure, you've climbed until your fingers are numb. Hiked to every waterfall. Surfed Brain Wave until the moon rises. Cycled every inch of the Gorge ridgelines. But wait: You're not done yet. You've been at the New River Gorge for days. You're hot, sweaty, tired, bug-bit and ready for a break. In short, you […]
Continue Reading
Local Talent: Bryan Kirk
WHO: Bryan Kirk AGE: 32 HOME: Fayetteville, West Virginia SPORT OF CHOICE: Freestyle Kayaking and Creeking CLAIM TO FAME: Professional kayaker. Kirk competed on the U.S. Freestyle Kayaking Team at the World Championships in Germany this year for the fifth time. FAVORITE PLAY SPOT: The put-in waves of the Dries (a section of the New […]
Continue Reading