Alicante is one of the provinces in Spain that is a tourist attraction and is best known for its sunny climate and sandy beaches. One of the main appeals of this particular area is that Alicante has more than 300 sunny days per year, so people living here would hardly lack vitamin D. For tourists and visitors, it remains one of the top places to go on a gastronomy tour and taste Mediterranean food as well as enjoy the active and vivid lifestyle.
Being famous as a tourist attraction, Alicante is also a great place for hiking as it is located in a mountainous area of land. Traveling from the northern to the southern part of Alicante, you will notice a great abundance of hiking trails that are beloved even by the locals. Hiking there, you can enjoy marvelous landscapes: forests with their rich flora and fauna, tiny towns, and breathtaking views on the sea.
Even if you are not a sporty kind of person, it does not mean that hiking is not for you. There are trails of different difficulties, so people having different level of skills and physical shape can try them out. One thing that will be for sure is the landscapes that you will truly enjoy.
If you plan a trip to Alicante in the nearest future or so, this article may be interesting for you as it focuses on the best selection of hiking trails in the area. If you are not into mere lying on the beach and sunbathing, going hiking will be a perfect combination of sport, nature, and culture.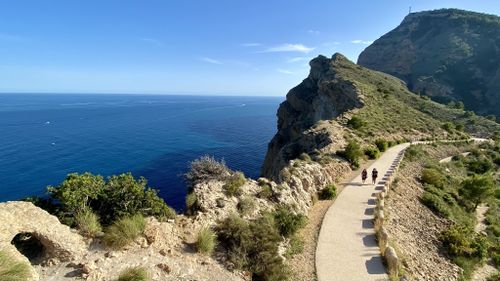 Discover the Top Hiking Trails in Costa Blanca, Alicante
1. Albir's Lighthouse
This route is totally worth recommendations as it will suit to people of all levels of physical preparation. It is fairly easy, so if you are with children or are on a bike, you can take it without hesitation. The length of the route is 2.5 km and its destination is Albir's Lighthouse. Going through the trail, you will be amazed with the Altea bay ans Sierra de Bernia being seen from the background.
The starting point of the route is the Information Point of Albir, which is the area that is easy to get to. If you have a car, there is a parking lot nearby, where you can leave your vehicle. Taking into consideration the overall length of the route, it may take one up to two hours to finish it. Please do not go through this route in a haste – each step is worth enjoying and observing the nature around.
You will notice a few viewpoints, but you should definitely stop at the one where you can get a fantastic view of Altea's bay. Another one worth your attention is where you can observe the Peñón de Ifach. At the final point of the route, you will be impressed with the fossil dunes and the cliffs.
2. Benitatxell Cliffs
Going along this route, you will enjoy some of the most striking coasts of Alicante province – if not of the whole Mediterranean coastline. More so, you will certainly be attracted to cliffs, where you will discover little coves with crystal water – as from some magical cartoon. Starting your path at Moraig's beach, you will get to Cava Llebeig.
If you have a car but want to take this hiking trail, you can leave your car in the parking lot near the slope leading to the cove. The route is an easy one, so you won't get lost even if you are on your own. There is a straight path leading you to the cliffs where you can enjoy the breathtaking views. You will come across a variety of caves that used to be popular among fishermen. On the whole, if you decide to take this route, you will be lost for words.
3. The Barranc de l'Infern
This route is not as easy as the aforementioned two as its length is 12 km, so it is more of moderate difficulty. Still, this one is Alcante's classis. The very name of the route, which means "The Hell's Cliff" implies that one should be prepared to take the trail. So, if you are in good physical share and you are ready to encounter the route's contrasting and versatile nature, specifically rocks and landscapes, you are more than welcome.
If you want to see the most of Alicante, you will definitely like this hiking trail. It starts in the area called "the middle village" and spreads to the "upper village", so get ready to enjoy the stone steps on the way. Besides, taking this trail, you will reach the "cathedral of thinking," which is surely one of the picturesque places of the area.
4. Bernia Ridge
The loop trail of Bernia Ridge is a hiking route of moderate difficulty that spreads at the distance of 9 km. Since it is a mountainous route, it is more suitable for people with good physical shape or endurance or those who are used to hiking or walking long distances. Bernia Ridge loop trail is one of the most spectacular trails in Alicante province. Since the trail is circular, you can come across lots of contrasting scenery. Some of the recommended places to stop by are the ruins of the Fort of Bernia and the magnificent Forat.
The overall distance of the route is 8.5 km, so it may take almost 3 hours for one to complete it. The path is rocky in some places, so be sure to take comfy shoes. Summing up, you start the hike in the district of Xalo, specifically at Casas de Bernia, and then go up to the northern side of the mountain rage until you reach the Forat. This amazing natural tunnel will take you to the southern part, where you will get to the 16th century Fort of Bernia.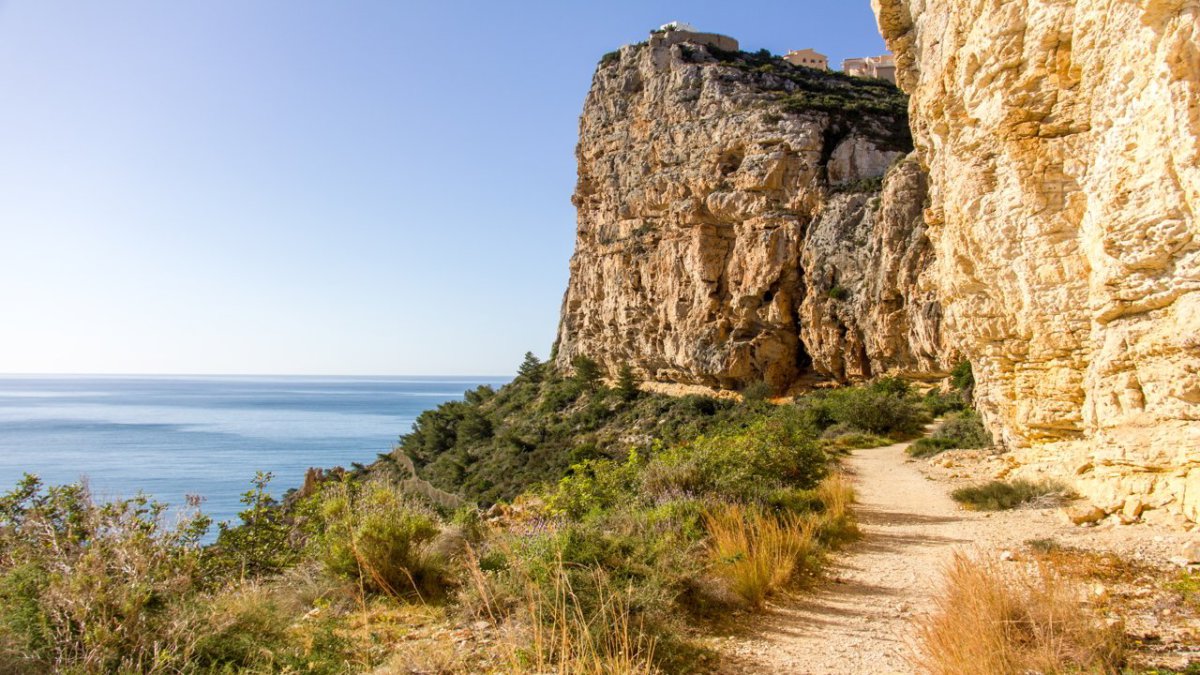 5. Puig Campana
This route is for more seasoned travelers who like to exert themselves and check on their endurance and strength. So, the total distance is 15 km, which includes the loop and the very summit, which makes this hiking tour a rather difficult one.
Puig Campana is one of the most challenging hiking tours in Alicante as it is the second highest peak. As it is a mountain, it makes it harder for tourists to conquer it. It is situated not far from the Mediterranean Sea, so its vertical location will open up to you magnificent and breathtaking views.
One should be in a good physical shape to reach the summit as there as differences in ascending of more than a kilometer. This route is also rather dangerous as it is rocky in some places and can be even slippery in some weather conditions. So, please consider special equipment before getting on track.
6. Calpe Rock Summit
Otherwose known as Peñon de Ifach, the Calpe Rock Summit is situated by the fishing harbor and is facing the Mediterranean Sea. This sight belongs to the protected natural reserves. Keep in mind that the entrance to this sight may be limited on busy days, so you should inquire the entrance in the information center. The difficulty of this hiking route is a tricky one as it starts with an easy and flat trail, but then it turns into a more strenuous path with a rock tunnel and roads along the mastiff. So, trekking shoes are highly recommended as there are slippery parts of the track, so you should watch out. Still, when you reach the top, you will see that your struggles were worth it as a picturesque view opens up in front of you. Your breathe will be taken away by the impressive Calpe salt lake and sandy beaches seed from the summit.
7. Villajoyosa (Coastal Path)
The magnificent town of Villajoyosa with its skyscrapers is separated from the Poniente area with pine forests, sloppy cliffs, and coves with clear water. This landscape can be a brilliant route for a family with children since the hiking would not be difficult and will be full of various experiences.
The route starts with the path to the Torre del Aguilo, which dates back to the 16th century and is an old defence tower. Going past this site, you will find a moderate descent to Cala Fonda and Raco de Conills, where you can take a break and wind up a bit. Meanwhile you can enjoy the picturesque views from there. At the final point of the route, you will find eucalyptus trees surrounding Playa del Torres.
The walk takes two hours or so – it will suffice to cover the route of 4 km while taking breaks to stop and stare. Reaching the final point of the hike, you will see takes for picnic, so take some snacks with you and prolong this nice time with your family or friends.
8. Sierra Helada
This trail separates Benidowm from Altea seawards. At first sight, the hiking route looks like that of moderate difficulty, but in reality it is more challenging than it seems. So, prepare trekking shoes because it will be a great experience.
The starting point is the El Albir Lighthouse, which leads to the highest point of 438 m. Reaching this place, you will get to the access road from where you could descend to the foothills of El Albir. If you are not against challenges, you can trek along the ridge, where you could view a breathtaking panorama. You can even take a break there and take photos of the landscape or even film the setting sun if you happen to be there in the evening.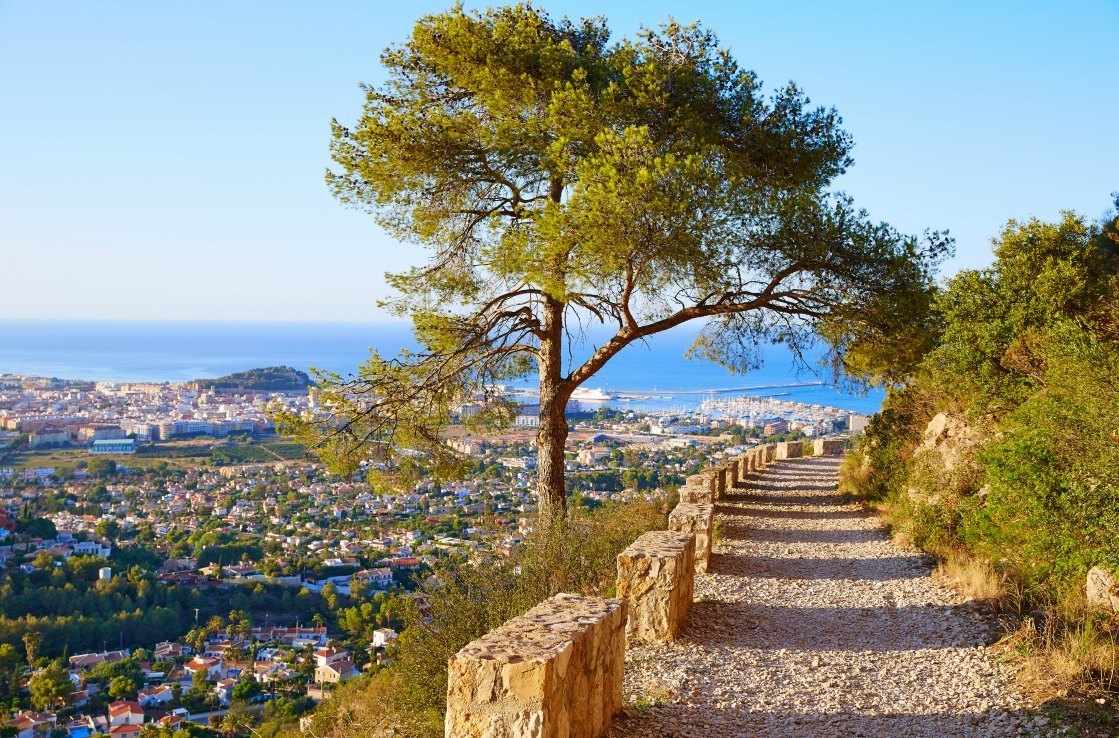 "


Category: New River Gorge Mountain Biking, Uncategorized