Tag: West Virginia
Highlights from annual single span steel arch bridge bash.
Continue Reading
What's it like to be on the Bridge Day River Rescue Team, braving cold water and Snapple bombs all day? Read here to find out.
Continue Reading
Most kayaks are made to stay on top of the water, but squirt boats are designed to go down under.
Continue Reading
Bring on the most fun you can have sitting down.
Continue Reading
Beginner to advanced mountain bikers find their zone on the Arrowhead Trails in New River Gorge, West Virginia
Continue Reading
Water Wiser
The Freedom Industries chemical spill into the Elk River, West Virginia has many taking a close look at our water sources.
Continue Reading
Water = Life
The chemical spill in Charleston, West Virginia leads us to take a closer look at where our water comes from.
Continue Reading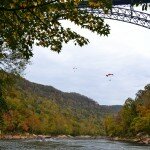 New River Gorge Bridge Day, 2013, from many different angles.
Continue Reading
Natural Wonders, Renewable Energy
West Virginia is known for its many natural wonders, including the New River Gorge, the Gauley River, the Dolly Sods Wilderness, and Cranberry Wilderness areas. For those living and working in the state, West Virginia is best known for its traditional energy resources: coal and natural gas. Few think of the energy opportunities provided by […]
Continue Reading
Want to know more about the New River Gorge Bridge? Read on.
Continue Reading